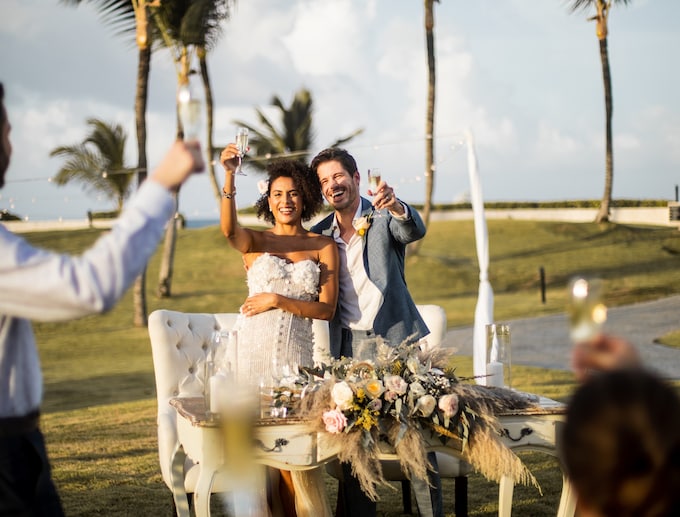 Important Destination Wedding Etiquette For Guests To Know About
Attending a destination wedding is so exciting - jetting off to an exotic location to celebrate your loved ones, and experiencing a totally unique wedding weekend - what's not to love?!
But, when you get invited to a destination wedding, a million questions run through your head. How much will it cost? What do I wear? Do I bring a gift? We're here to help navigate the most common guest etiquette guidelines when it comes to attending a destination wedding far away.
The Cost of Attending a Destination Wedding
The average cost of attending a destination wedding is currently $3,400 (staying 4-5 nights). This, of course, can vary depending on a variety of factors, such as where you're flying from and going to, the time of year, resort and room category chosen, etc. Many guests are concerned about whether or not they can afford to go, and ensuring they get the best value for their vacation package. In our experience, the best way to budget for a destination wedding trip is to book as early as possible and work with an expert to secure the best rate.
What to Wear to a Destination Wedding
Guests should be aware of any particular dress code the couple has promoted on either their wedding website or invitation. This will help decipher what to pack and wear to each event while away. Some couples may opt for a casual seaside affair, where sandals and sundresses are appropriate. Other destination wedding dress codes may be more formal and require long linen pants for men and floor length dresses for women. If you're unsure, consider the location and climate. A mid-day beach wedding will call for more casual (and breathable) outfit choices, while an evening event in a ballroom or church may require dressier attire.
Being a Bridesmaid or Groomsman in a Destination Wedding
Being asked to be a bridesmaid or groomsman in a destination wedding is an honor and something to get really excited about! It can, however, come with some challenges and bring about certain etiquette questions you may not be sure how to navigate. While your overall responsibilities will mostly be similar to that of a traditional wedding, you may want to consult the bride(s) and/or groom(s) to get an idea of what they need and expect from you both throughout the planning process and while celebrating in your destination.
Bringing a Gift to a Destination Wedding
Bringing a gift to a destination wedding is usually optional. It is a thoughtful gesture that shows your love and support of the couple, however the decision ultimately depends on your personal circumstances and the couple's preferences. Many couples opt for a non-traditional wedding registry, such as a honeymoon fund, where guests can contribute towards experiences or upgrades during the couple's time in paradise. Some couples may explicitly request no gifts at all and simply specify that your presence is a present!
Bringing Kids to a Destination Wedding
Before you bring your kids to a destination wedding, you should make sure that 1. They are welcome/invited by the couple and 2. The resort/venue can accommodate children under 18. If both of these things are true, then you can start to weigh the pros and cons of bringing them with you. Think about the overall experience you want to have and whether or not children fit into that vision. Family-friendly resorts often have multiple ways to keep little ones entertained, such as water parks, kids clubs, age-appropriate activities, etc.
When to Arrive to a Destination Wedding
To minimize the stress and uncertainty of travel, it's best not to cut your arrival too close to the wedding festivities if possible. Whether accounting for jet lag or the possibility of bags getting lost and flights getting delayed, it's good to leave wiggle room in your schedule so you can relax and enjoy all the festivities. An early arrival will also ensure that you have time to check in with the local wedding coordinator and make sure everything is ready to go for the big day.
Booking Your Travel Arrangements with a Specialist
If you're attending a destination wedding, hotels and flights should be booked as early as possible. Be sure to ask the wedding couple if they have a group room block at their chosen resort venue, since this is a popular method for booking and organizing guest rooms. A group block reserves a set number of rooms at your resort for you and your guests and, when done early enough, ensures optimal rates.
Obtaining Travel Insurance
Yes, purchasing travel insurance (aka a Trip Protection Plan) is highly recommended, no matter what. Flights get delayed, weather happens, and people get sick. For the deposit that you'll spend, you'll have ample peace of mind knowing that your investment is protected from unforeseen circumstances. Ask your Specialist about our Cancel-For-Any-Reason (CFAR) Travel Protection Plan, which allows you to cancel or reschedule your travel plans without penalty.