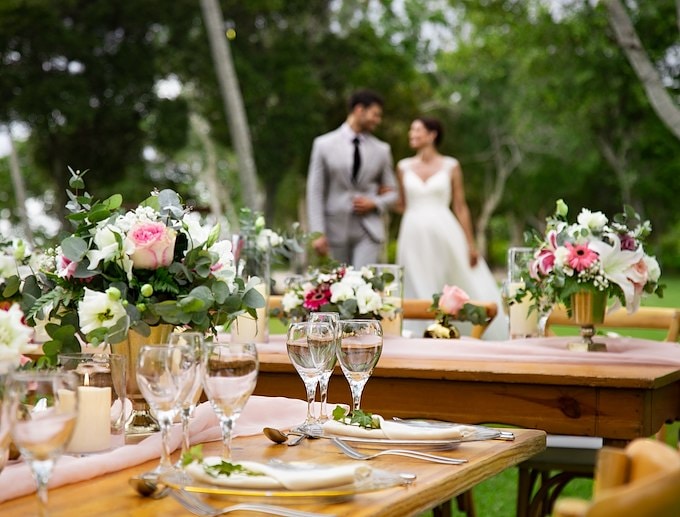 How to Save Money on a Destination Wedding
You may think that planning a destination wedding will be too expensive for you, but the fact is, having an all-inclusive destination wedding in the Caribbean or Mexico is a huge cost savings when compared to the alternative.
According to WeddingPro's most recent Real Wedding Study, the average cost of a wedding in 2023 was $XX,XXX. We're happy to report that our couples spend under $10,000 on their celebrations abroad, which includes their accommodations, wedding package and estimated airfare, all bundled into one affordable price.
There are several ways you can save money on your destination wedding without compromising on the overall experience. Here are some of our insider tips:
Plan ahead
Saving money on a destination wedding can be tricky, but the easiest and most obvious tip we can give is to plan ahead. Pre-booking anything you can in advance is typically smart when planning to get married away, especially if your guest list is somewhat large. From group excursions to upgraded accommodations, the longer in advance you confirm the details, the better the chances are to snag a great deal!
Choose the right location
Tropical destinations like Mexico and certain Caribbean Islands often have the most affordable airfare and are home to some of the most beautiful all-inclusive resorts in the world. All-inclusive resorts offer all meals, drinks and entertainment at an affordable price. Plus, their all-inclusive wedding packages bundle everything together for you, from the florist to the DJ, saving you hundreds of dollars on hiring individual vendors.
Choose an off-day
many couples opt to get married either in the off-season or during the week to save money on their celebrations. Some resorts offer steep discounts for mid-week weddings, and overall travel costs will decline if you tie the knot in non-peak season for your destination.
Nix the extra decor
When having a destination wedding, we recommend skipping the unnecessary décor items, and letting your locale speak for itself. By highlighting the beauty around you as your wedding album backdrop, you also cut out any extra shipping fees or baggage transportation issues.
Source local items
Your destination has so much more to offer than just picture-perfect scenery and top-notch cocktails. Rather than importing expensive flowers or special ingredients for your reception dinner, opt for a local variety of fresh blooms and an organic or unique fusion take for your menu. Either way, your guests (and Instagram followers) will be impressed!
Look for deals
This one may seem obvious, but it could also help you save the most of all! Be sure to keep an eye out for exclusive deals (like these!) you won't find anywhere else in the world outside of DestinationWeddings.com. Trust us; saving hundreds (or thousands) on your once-in-a-lifetime celebration will be priceless!